Partnerships: The Six Steps To Greatness
A large part of our practice involves helping people with their partnerships. Partnership disputes can include members in a Limited Liability Company (LLC) fighting over the property they own together, corporate shareholders who disagree over how the corporation should be run, business people who are going their separate ways and even (and often) family members who own a business or property together.
Partnership lawsuits include partition actions, breach of fiduciary duty, breach of contract, fraud and other causes of action. The partners are always emotional and the litigation is usually hard fought. Partnership litigation can be expensive and take a long time. So how can you avoid partnership disputes?
1. Focusing: Preparing to Partner
Partnerships must be grounded in a clear commitment to some purpose that can best be expressed through a partnership. You must focus deep inside to find the common purpose that will inspire you to partnership greatness.
2. Auditioning: Picking Great Partners
As an early test to ensure good partnership fit, auditions are all about discovery and disclosure. They are the method great partnerships use not only to identify their special talents, but also to create a setting for learning and communicating expectations.
3. Rehearsing: Getting the Partnership In Shape
Most masters of partnerships warn that the early stages of a relationship are the most critical. Naysayers speak loudest in the opening scenes, when the partnership is most vulnerable given the newness of the venture. Your early focus should be on "working the plan," ignoring any opposition or objections.
4. Dancing: Keeping the Magic In Motion
Step four is all about finding and keeping the feel or flow of the venture. Hear the message here: dancing is the fourth step, not the first. Preparation is paramount for great performances. Partnerships are greatness in the making. They are hopeful pursuits of magic, not efforts valued only at the finale.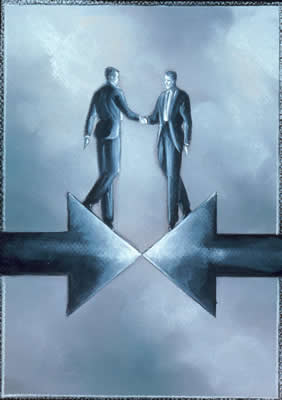 5. Hurting: Managing the Pain in Partnership
Great partnerships are rarely forever flawless. Mature partners manage their misery and bounce back to star again. Their long-term resilience rests in their capacity to bend against anguish and continue to dance even in adversity; they know pain is more a teacher than torturer; a mentor for mastery rather than an agent of agony.
6. Bowing Out: Calling It Quits
Our research on partnership revealed a special discovery: endings can be as important as beginnings. Partnerships sometimes deteriorate into animosity because the partners are unable to recognize "ending" signals. The ill-timed finish leaves the partners angry, bitter and reluctant to partner again. The lesson here is anchored in the belief that a purposeful adjournment is as vital to partnership greatness as a purposeful audition.
Partnerships aren't for everyone. Great partnership require an investment of energy much greater than casual relationships or superficial transactions call for. Partnerships are clearly not a cakewalk. Partnerships require lots of effort. Partnerships also demand vulnerability, a willingness to fall and to get dropped. And partnerships diminish the protection of anonymity; they are poor associations in which to hide. Imperfections and insecurities prance across the performance in full view. Done well, partnerships work at amplifying disclosure and enhancing exposure. Most partnerships are hard won through relevant purpose, careful choosing, cautious courtship, and constant toil.
If you have a partnership or family dispute over a property or business, feel free to call us for a consultation.